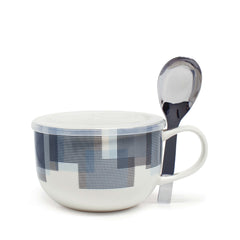 Sale
Sold Out
Lunch2Go Soup Mug with Soup Spoon 520mL - Shadow
When you're in a pinch, you need lunch and you need it fast! Say hello to our Lunch2Go mug with spoon. It's just the right size to fit all your snacks, soups or last night's leftovers without taking up too much space in the work fridge. Plus, it comes in a fun geometric pattern we call shadow that everyone will recognise as yours. And it's not just cute! Our soup mug is made from new bone china with an airtight BPA-free lid with vent and both are microwave and dishwasher safe - so bye-bye to those pesky soup stains!
Product Details

Range: LUNCH2GO

SKU: 56393

Brand: Salt&pepper
Features & Benefits

Made from new bone china with an airtight BPA-free vented lid and stainless steel spoon, the Lunch2Go Soup Mug with Spoon is perfectly sized for snacks, lunch or leftovers. A unique and colourful pattern ensures it stands out from the rest in the office lunch room.
Care Instructions

Dishwasher safe;Microwave safe bowl. Do not microwave spoon.