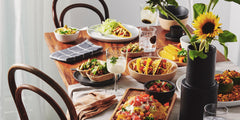 Our Story
We don't just make homewares. We turn houses into homes.
As a family business based in Melbourne, we've seen this city grow and watched how homes around Australia have changed.

Family dinners have become food delivery nights. Your best glassware is no longer saved just for special occasions. The dining table has become your home office and a study desk for the kids (so you eat your dinner on the couch!).

As your lives have changed, so have we. We now design and create plates that turn take-out into a well deserved timeout.

Glasses fit for both celebrating and winding down after work. That mug you remove from the dishwasher before the cycle has finished, just because it's your favourite. Bathroom accessories that add personal flair to your inner sanctuary.

We're here for it all. Catastrophes. Successes. Failures. Friendships. Every home dinner. Your outdoor summer gatherings. Your family picnics. Your annual celebrations.

At salt&pepper we don't just make homewares. We help create memories, traditions and daily rituals. Because even though four walls make a house, it's what's inside that makes a home. Thank you for inviting us in.

Eat. Drink. Happy. Home.
Our History
We're a family business with roots in Melbourne.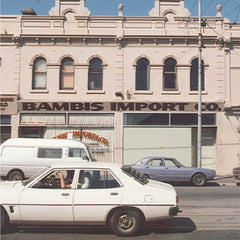 It all started in 1956 when Bambis Pourounidis moved with his family from their hometown in Greece to Australia. A candlemaker with a keen eye for beautiful homewares and kitchenwares, Bambis curated a collection that could be weaved into any Australian home.
His children carried on this legacy and in 1995 they designed and launched their own brand,
salt&pepper. Today, salt&pepper is found in households around Australia and also around the world. For over 26 years we've continued to transform houses into homes.
Melbourne is close to our hearts as our family was forged in this city. Just like you, we've gone through everything life throws at us and just like you, we continue to treasure every memory and tradition that comes out of it.
Our story continues as salt&pepper homewares become a part of your home. Together we'll witness joy, laughter, tears, bad cooking, good cooking and good times.
Eat. Drink. Happy. Home.