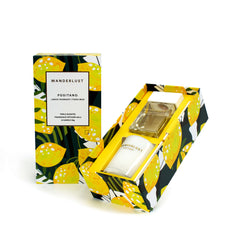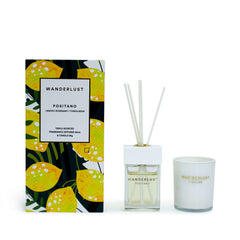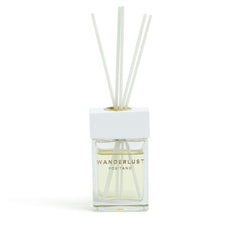 Sale
Wanderlust Candle & Diffuser Gift Pack - 2 Piece - Positano
Ahhh, Positano. The soul of the Amalfi coast. We've worked with a perfumer to create our Wanderlust Positano range, and capture a little piece of the city in a jar. Reminisce about those handmade sandals and indigo waters over the unique blend of lemon, rosemary and tonka bean. The natural essences of the 40ml diffuser has a scent life of up to 3 weeks once opened. The 88g candle has up to 18 hours burn time.
Product Details

Range: WANDERLUST

SKU: 56560

Brand: Salt&pepper
Features & Benefits

Scent: Lemon, rosemary & tonka bean
Measurement: 88g candle & 40mL diffuser
Material: Glass
Set of: 2
Packaging: Giftboxed
Care Instructions

Candle: To ensure a longer lifespan, ensure that after blowing out your candle, the wick is centred in the wax while it is still a liquid; Trim the wick to 6mm, using wick trimmers once the wax has solidified; Caution: remove all packaging before lighting the candle. Avoid any unprotected surface that may be damaged by heat or dripping wax. Be sure to burn in a draft free area, away from flammable materials and overhanging surfaces. Never leave a burning candle unattended.Diffuser: The thickness of the diffuser's natural cotton sticks is very important. They are sized for optimal absorption of essential oils and slow-release of their fragrances over time. For best results, turn sticks upside-down and place back into bottle after the first 24 hours of opening the fragrance. This aids in the absorption of essential oils. For optimal lifespan of the diffuser, keep away from direct sunlight, heat & drafts; Caution: always place the fragrance and diffuser bottles on a level surface and away from all fragile, polished, painted and varnished surfaces. Avoid contact with eyes, skin and clothing. Spills should be cleaned immediately to avoid damaging the surface. Wash hands thoroughly after handling. Keep away from open flame, children and pets; Do not swallow. Seek medical attention if consumed.