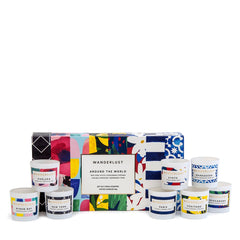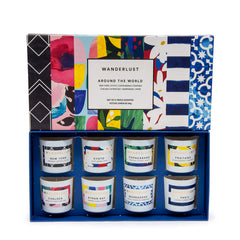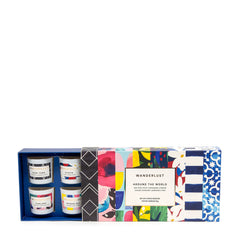 Sale
Sold Out
Wanderlust Votive Candle 35g - Set of 8
Welcome to our world of adventure. Travel with us to the most exciting places in the world with our Wanderlust votive set of eight soy candles. Inspired by the heart & soul of iconic locations such as Paris, New York, Marrakesh and Kyoto, our 30g wax candles are blended from natural triple-strength European essential oils with lead-free cotton wicks. And with a burn that lasts up to 5 hours, relive your favourite vacation spots over and over again. So, whether it's a weekend trip to the Aspen mountains or soaking up the sun in Copacabana, let our collection awaken your wanderlust - and inspire your next adventure. Let's go!
Product Details

Range: WANDERLUST

SKU: 50253

Brand: Salt&pepper
Features & Benefits

Each Salt&Pepper WANDERLUST fragrance is the result of a careful blend of natural essential oils, hand-selected from perfumeries across Europe, resulting in a high-quality and triple-strength fragrance, inspired by a well-known and widely admired location.
Care Instructions

To ensure a longer lifespan, ensure that after blowing out your candle, the wick is centred in the wax while it is still a liquid; Trim the wick to 6mm, using wick trimmers once the wax has solidified;Caution: remove all packaging before lighting the candle. Avoid any unprotected surface that may be damaged by heat or dripping wax. Be sure to burn in a draft free area, away from flammable materials and overhanging surfaces. Never leave a burning candle unattended. Do not burn candle all the way down, for safety stop burning candle when approx. 1.5cm of wax remains in the container. Do not burn longer than 3hrs at a time.